Autonomous trucks have long been seen as the solution to overburdened road freight networks and inefficient logistics chains. At a time of acute driver shortages, autonomous trucks also come with the promise of being safe, operational 24/7, optimizing resource usage, and ensuring uninterrupted commodity flows. Companies like TuSimple, Aurora, Kodiak Robotics, Nuro, Embark Trucks, Cruise, Waymo Via, Robomart, and Boxbot are in the race to change the face of commercial transport with their disruptive technology and strong complementary partnerships.

Against this backdrop, the nearly two-year partnership between Daimler Truck and Waymo Via to develop a redundant Level 4 (L4) autonomous truck platform is finally taking off with scheduled pilot runs of the Freightliner Cascadia powered by Waymo Driver. After incorporating the 1500+ functional requirements needed for the seamless integration of the Waymo Via with the Cascadia truck, testing of the autonomous trucks is set to begin on public roads between Dallas and Phoenix, Texas.

As expected, the ultimate objective –following successful demonstrations on public roads and regulatory approvals – will be to move to scalable, real-world commercial implementation. At this stage, customers will be able to buy the trucks installed with the Waymo Driver system from Daimler Truck.

"This is a small but significant step ahead towards providing an option of production ready, fully redundant autonomous Class 8 trucks that customers can buy from dealers. Waymo has stated that the company plans to launch its first driverless Waymo Driver in the next few years. This is in line with Frost & Sullivan's aggressive prediction that Class 8 autonomous trucks will start hitting the road commercially by 2024," said Saideep Sudhakar, Associate Director (Mobility) at Frost & Sullivan.

To learn more, please access our reports, Global Last-mile Delivery Optimization for Retail Growth Opportunities, US Light and Medium Duty Trucking Autonomous Technology Market, 2022, US Long-haul Autonomous Trucking Technology Companies, 2021, and our forthcoming report, L4 autonomous market potential for trucks (2022 – 2040): United States of America, or contact sathyanarayanak@frost.com for information on a private briefing.

Our Perspective

In our upcoming research report on the US long-haul autonomous trucking industry, it is noted that the accelerated shift toward autonomous trucking has been driven by surging commodity consumption, technological advances, safety imperatives, and continuous efforts to improve overall efficiencies. Regulatory clarity – at global and national levels – will further reinforce the move towards autonomous commercial transport.

While Level 4 trucking capabilities are unlikely to materialize in the short-term, nevertheless, the flurry of pilots and trials bode well for the future. Our forecasts indicate that Level 4 autonomous trucks – if commercialized as anticipated by 2024-2025 – have the potential to transport about ~22% of the annual freight tonnage in the US by 2040.

Large commercial trucks with autonomous capabilities (like the Freightliner Cascadia) will be used primarily in long-haul applications. In addition to long-haul transport, self-driving trucks will find widespread use in middle and last mile delivery logistics as well. It will be particularly interesting to see how they develop in challenging urban environments with their long tail of exceptions.

So, when and where will take-off occur? Frost & Sullivan's forthcoming report, "L4 autonomous market potential for trucks (2022 – 2040): United States of America", focusses on prospects for L4 autonomous adoption across the US until 2040. Major routes have been scored on key driving factors such as freight transported, weather, and regulation, among others, to determine the likely phase wise route adoption of autonomous readiness.

Given below is Frost & Sullivan's forecast on phase wise adoption in the US – when each route is expected to be autonomous ready.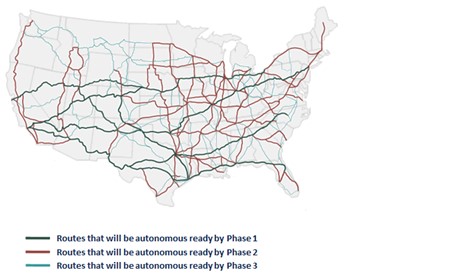 Based on factors like favorable regulations, high volumes of freight transport, and weather, our research identifies the Texas-Arizona belt as the most likely to be among the first routes that will be autonomous ready for commercial launch. These are also the same routes that major autonomous players are currently testing their L4 technology.